The Hoop at SOCAP10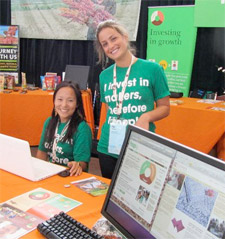 When we started working together on the Hoop Fund back in March we knew we wanted to use SOCAP as a launching point. The Social Capital conference, in its third year, is a pioneering conference that brings together investors, entrepreneurs, advocates and more at the intersection of money and meaning. And of course since the Hoop is about everyday people becoming social capitalists and creating personal meaning in what they buy, we were pretty sure that SOCAP10 would be a great fit for us.
We were right.
SOCAP10, hosted last week at the Fort Mason Center here in San Francisco, brought the Hoop close to 250 new lenders and another 250 advocates who picked up a laptop sleeve made by our producer partners at XS: a phenomenal organization based in Indonesia that works with trash pickers and local sewers.
We offered attendees the opportunity to pick up a laptop sleeve, dedicate a SOCAP-funded loan to help XS's pickers and sewers improve their market access, or do both by funding a loan themselves. A huge number of people chose the third option, putting up their own money to fund the loan while also enjoying and showing off the bag, which was designed from Mitsubishi seat-cover material that XS diverted from a landfill. More people stepped up to also fund our other loans too, with our project with the Acopagro Chocolate Cooperative in Peru almost being filled by Day 3...