About Patrick Donohue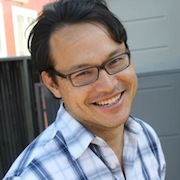 "My hope still is to leave the world a bit better than when I got here."
- Jim Henson
Patrick Donohue is an entrepreneur, engineer, and product designer who focuses on high impact startups and products. Patrick's currently leading product development for eParachute, a startup based on the career bestseller, "What Color is Your Parachute?" as well as consulting for several other impact driven startups.
Patrick's work is driven by a passion for designing products and businesses that enable people to overcome problems—or pursue dreams—that no one thought they could. After working as a software engineer for Apple and Rockwell, Patrick used an MBA in sustainable enterprise as a springboard to building products for developing and emerging markets. He then spent seven years guiding clients like SC Johnson, DuPont, and Ascension Health to run product experiments and launch new business lines in Kenya, India, Ghana and the U.S. The resulting ventures focused on home hygiene in Kenya, food ingredients in India, health services in Michigan, and anti-malaria buying clubs in Ghana.
In 2010, Patrick co-founded The Hoop Fund, a crowdfunding platform that supported Fair Trade artisans and brands in nine countries around the world. As a product-focused CEO, Patrick designed and architected the Hoop's crowdfunding platform, but also negotiated with Fair Trade and ethical brands to create a marketplace of high-impact projects and products from communities around the world. The Hoop was the winner of 2011 Hub Ventures accelerator and was covered by publications such as Fast Company, Forbes, and the Wall Street Journal.
Patrick has an MBA from the University of North Carolina at Chapel Hill, where he served as President of UNC's MBA Student Association, and a BS in Computer Science from Stanford University.
http://openideo.com/profiles/pcdonohue
http://twitter.com/pcdonohue
http://angel.co/pcdonohue
http://linkedin.com/in/patrickdonohue