A Bigga Boda - XAccess' Cycle in Kenya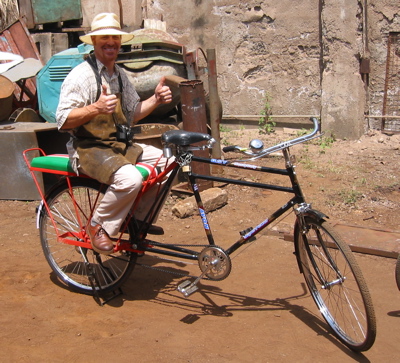 After five months of intense work in communities in Kenya and Brazil we've got a long backlog of stories to share. Now that we've got a short breather we thought we'd post a few. This one from Kenya came up recently when we were asked via our colleague & mentor Stuart Hart, "Have you heard of these XAccess guys?"
Actually, yes we have!
In June the BoP Protocol team headed out to the shores of Lake Victoria in Kisumu, Kenya to visit with the XAccess and KickStart folks who were modifying an innovative bicycle for the local market. XAccess is the non-profit sister of XtraCycle, maker of the world's first Sport Utility Bicycle, and KickStart, the NGO formerly known as ApproTEC, is a long time provider of enterprise enabling technologies to low-income communities. KickStart is helping XAccess to commercialize its bicycle in Kenya as the "Bigga Boda", an upgrade to the existing "Boda Boda" bicycle taxis, so named from their early days on the border of Kenya and Uganda where the taxi riders cries of "Border! Border!" eventually morphed into the "Boda Boda" of today.
The lead designer for XAccess in Kisumu was none other than Ed Lucero, legendary kayaker and the world record holder for the longest vertical drop in a kayak (a jaw- and stomach-dropping 106 ft over Canada's Alexandra Falls). Ed also happens to be an incredibly talented product designer and he described to us how the XAccess kit attaches to existing bicycles, creating a larger, more rugged space for heavier cargo of all sorts while still fitting into Kenya's existing bicycle landscape and servicescape. Ed is designing a kit which Kenya's bicycle fundi (craftsmen and repairmen) can use to attach the XAccess frame to local bicycles. The XAccess frame is made from locally available parts and can be modified for various types of bikes.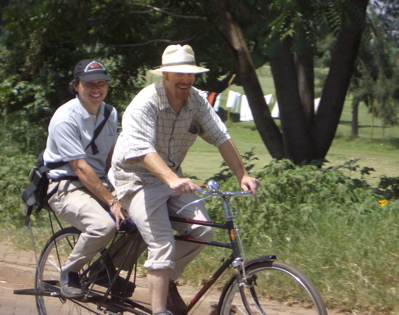 To cap off our visit, Ed and a colleague took us on a ride around Lake Victoria, where we became the envy of all the local bicycle taxi and cargo operators. "You want to be popular?" Ed said, "just ride one of these bikes around Kisumu and you're sure to meet lots of new friends." Common questions we were asked on our ride were "How soon can I get one?" Soon, the program is currently in a test market phase to produce and sell 50-100 bike kits. "How much will it cost?" Not sure, perhaps 3000-4000 Ksh ($40 - $50 US). "How many people can it carry?" Three on a downhill or a straightaway, and uphill depends on the size of your calves, though three people would be tough and heavy cargo like us wazungu, Westerners, could be even tougher.
After days of riding from site to site in the KickStart van, the leisurely pace of a bicycle was a delightful reminder of how much you miss when you just motor through. And fittingly enough when our van's tires blew out the next day on the potholed roads out of Kisumu, how did we get to the local repairman?
On the back of a bicycle of course!
Click here for more on the XAccess project in Kenya.
Also see: Bambucicletas and Other Cycles of Innovation for past BRINQ coverage.