Reaching the Next Billion (World Resources Institute)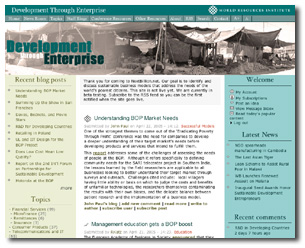 Well, it looks the folks at the World Resources Institute (WRI) have put together yet another great resource for the rest of us. WRI is behind a litany of world-changing best hits, including Beyond Grey Pinstripes, which tracks business schools on the leading edge of sustainability, the Digital Dividends progam, identifying and promoting solutions to the global digital divide, the New Ventures program, investment for sustainably oriented start-ups in the developing world, and the fantastic Eradicating Poverty through Profit conference, first held last December in San Francisco.
NextBillion.net, WRI's latest resource, was born of the fabulous community that came together for the Eradicating Poverty conference: close to a thousand aspiring and accomplished world changers, entrepreneurs and representatives of multinationals, NGOs, universities, governments, and local businesses from throughout the developed and developing world.
Rather than explain much more, I'll just let WRI do it themselves.
Our goal is to identify and discuss sustainable business models that address the needs of the world's poorest citizens. Linking the pursuit of profit with the goal of economic development creates a new lens through which traditional business and development models can be viewed. Through this lens, we explore the "next billion" - the next billion to rise from poverty, who are also the next billion customers currently underserved by markets worldwide.

NextBillion.net emerges from the successes of "Eradicating Poverty Through Profit: Making Business Work for the Poor," a conference held December 12-14, 2004 in San Francisco, California. It is an opportunity to continue, and to expand upon, the relationships and conversations begun there.

Our goal is to create a new forum for the discussion of best practices, new research, and on-the-ground activities related to business engagement with low-income communities, and private sector-led development. It is a place where development professionals, business leaders, social entrepreneurs, NGOs, policy makers, academics, activists, and practitioners - from both North and South - can convene every day to access each other, and build on their own, and others', work.
The site is still in beta but already has a significant amount of content. You can sign up to submit your own content or subscribe to their news feeds. Enjoy!
Past "How to Change the World" articles:

Capturing the Unexpected Innovation – Tribal Lingo – Lighting Up the Crossroads – You Need More than Magic – Unleashing Competitive Imagination – The Model T Trap