Lighting Up the Crossroads - Stuart L. Hart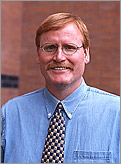 "Stuart Hart was there at the beginning. Years ago when the term 'sustainability' had not yet reached business schools, Stuart Hart stood as a beacon in the umbrage. It is clear commerce is the engine of change, design the first signal of intention, and global capitalism is at the crossroads. Stuart Hart is there again; this time lighting up the intersection."

- William McDonough, Co-author of Cradle to Cradle
Three years ago, a group of MBA prospects visited the University of North Carolina's Kenan-Flagler Business School. We were wined & dined and offered full rides and stipends, incentives to reject offers at higher ranked business schools and earn our MBAs at Kenan-Flagler instead. The admission staff knew they had to be convincing, so they brought out the big guns. We were introduced to Stu Hart.
Naturally, we decided Carolina was a fine place to be.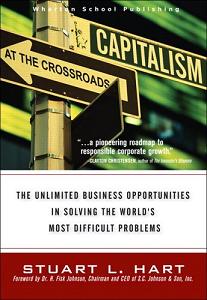 At BRINQ, both Sheri Willoughby and I attribute working with Stu Hart as defining moments in our careers. Sheri, a chemist and environmental specialist from Florida, and I, a computer scientist and technologist from California, had returned to school to answer the question "How can we make companies more environmentally friendly?" However to our great fortune, Stu Hart took us in hand and convinced us to go "beyond greening", that the real opportunity for sustainability was not in better ways to comply (reducing liability and cost) but in creating new strategic business opportunities (increasing revenues and markets): "What radical new business opportunities are available for a sustainable company?"
Hart writes in his acclaimed new book, Capitalism at the Crossroads:
By moving beyond greening, companies hope not only to address mounting social and environmental concerns, but also to build the foundation for innovation and growth in the coming decades. In so doing they would outperform their competitors in today's businesses, but even more importantly, outrun them to tomorrow's technologies and markets. In short, sustainable global enterprises would create competitively superior strategies that simultaneously move us more rapidly toward a sustainable world.

Rather than seeking incremental improvements to what already exists, moving beyond greening often means pursuing innovations that may make obsolete what currently constitutes the company's core business—it is an inherently disruptive act.
To address these opportunities, Professor Hart launched the Base of the Pyramid Learning Lab in 2000 at the University of North Carolina: "a consortium of large corporations, new ventures, and non-governmental organizations (NGOs) all focused on how best to serve the needs of the 4 billion people at the base of the economic pyramid (BOP) in a way that is culturally appropriate, environmentally sustainable, and economically profitable." Our work with Stu and the Base of the Pyramid Lab in 2003 and 2004 led directly to the founding of BRINQ.
Mark Milstein, Director of Research for the Sustainable Enterprise Program at the World Resources Institute and a former UNC professor, once mentioned that Stu's greatest strength was not so much in his own work, but in his ability to "inspire and enable others". "Stu is a great listener," Milstein commented, "and his ideas inspire others to build on his work."
Stu Hart has certainly inspired us at BRINQ and we know of no better way to thank him than walking down the road he illuminated for us. We'll leave you with a couple more comments about Stu and his new book Capitalism at the Crossroads:
"Optimism underlies all the arguments in Capitalism at the Crossroads, and the author presents us with a call to optimistic action. He asks us to involve the full range of stakeholders in crafting solutions to the issues of sustainability. He demands that we embrace a new business paradigm built not on incremental change, but on creative destruction and reinvention. He challenges us to base our policies and businesses on the unassailable truth that shareholder value can be created while solving social and environmental problems."

- Dr. H. Fisk Johnson, Chairman and CEO, S.C. Johnson & Son, Inc.

"I hope this book will be able to influence the thought processes of corporations and motivate them to adapt the forthcoming business realities for the sake of their own long-term existence. Besides business leaders, this is a thought-provoking book for the readers who are looking for solutions to capitalism's problems."

- Muhammad Yunus, Founder and Managing Director, Grameen Bank, Bangladesh
Additional Resources:
Past "How to Change the World" articles:

You Need More than Magic – Unleashing Competitive Imagination – The Fortune at the Bottom of the Pyramid – The Model T Trap – Going Beyond Networking