Looking for Exponential Value - Lessons in Leadership
It should be obvious that there really is a limit to how much one person can do or to how much one person can earn; we should be looking for ways to create exponential value. Remind budding leaders about that every time they think about going it alone. For a developing leader, every "individual" success can be viewed as just reinforcing a bad habit; it blinds you from seeing how much greater your success could have been if you had looked beyond yourself. Sure you may be brilliant, but doesn't it make so much more sense to leverage that brilliance with others?"I start with the premise that the function of leadership is to produce more leaders, not more followers." – Ralph Nader
Last year, we designed and launched an innovative new leadership track for a top-ranked business school. The track treats student leaders as executives, providing them with hands on leadership training in which their actions create visibile results. In other words, we created a playground for budding leaders. Well, we're proud to say that tomorrow night the program will begin its second year; it survived and thrived after our departure. Below is an excerpt from a letter I wrote to Professor Dave Hofmann, who heads the track, on one leadership lesson I've encountered in the last year.
And always remember, innovation is leadership.
--
I was down in LA for an awards ceremony and my brother Bernard's inauguration as President of the Burbank Jaycees (Junior Chamber). His vision for the organization? Leadership development, of course! It must be in the blood. He wants to radically improve the Jaycee's use of community projects in developing leaders and attract even better people to the organization, aspiring professionals looking to develop themselves. The crowd loved his vision and he received a standing ovation, which apparently never happens. My family was thrilled, Bernard alone among the eight of us never finished college, but we've been so proud of everything he has done.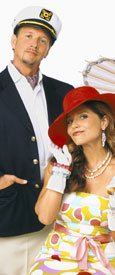 Which brings me to an important lesson. The keynote speaker at the event was Glenn Stearns, 39 year-old entrepreneur, owner of 26 companies, and real life millionaire (who recently played and won as the millionaire on the Real Gilligan's Island reality show). He was not a great public speaker but his speech was fantastic. Glenn barely made it through college with 2.14 GPA, but now has a net worth of $500 million. That's half a billion dollars. A lot of money.
His secret? Well, I believe he understood better than most the need to surround himself with brilliant people and to build a better system for business. He knew he wasn't brilliant, so he knew he needed help. Most of us so-called "brilliant" and "successful" individuals never learn that lesson, we've gotten by so long on our own that we never learn how much we really need others. We tend to think it's about us and forget that it's really about building something that's greater than us. And by far the most successful people are the ones that surround themselves with better people and who build better systems.
It should be obvious that there really is a limit to how much one person can do or to how much one person can earn; as leaders, we should be looking for ways to create exponential value. Remind the next batch of leaders about that every time they think about going it alone. For a developing leader, every time you succeed by going it alone is just reinforcement of a bad habit; the success blinds you from seeing how much greater your success could have been if you had looked beyond yourself. Sure you may be brilliant, but doesn't it make so much more sense to leverage that brilliance with others?
Me? I fall into this "brilliance" trap all the time, and time will tell if I'm still in the middle of it. With all my academic and workplace success, my family has always figured I'd be the really successful one. But I'm betting on my brother. I think my brother "gets it" much better than I do. Awards or not, all my past success was mostly measured as an individual, and I can't help but wonder what exponential value I left on the table . . .
Here's to old dogs and new tricks. Best of luck with the next batch of leaders.
Patrick