The Hoop Fund in Forbes, the Wall Street Journal, and more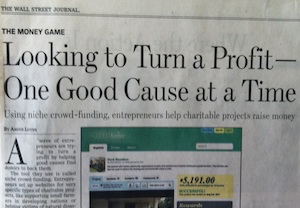 We had a great summer in terms of press coverage at the Hoop Fund, with stories in the Wall Street Journal, Forbes, Reuters, Triple Pundit, and Fair Trade USA.
Below are couple of excerpts from Forbes and the Wall Street Journal.
By Elimra Bayrasli
Patrick Donohue, Co-Founder & CEO of the Hoop Fund, an e-Bay meets Kiva crowd funding platform that allows individuals to purchase "ethically" products and to invest in the farmers and artisans behind them, is hoping for the same. "We are looking for partners and investors to help us take the Hoop to the next level," says Donohue. They just kicked off a new seed round of $350k, of which they've raised $75k from Hub Ventures and First Light Ventures." Donohue notes that both are "pioneers in the SOCAP community."
Community caught my eye. It's not a term you'd find flowing from Wall Street's lips. Donohue believes that's changing.
"When the market's crashed in 2008, I think a lot of people realized just how much we need community. Not only did out of control money put us in a bad situation, but we realized that we can't rely 100% on 401ks and the market to take care of us. Trying to make so much money so that you don't need anyone is a ridiculous and lonely pursuit. So impact investing not only helps build the types of community infrastructure we need to thrive, but it also forces us to view our financial returns along side the society we're building and what we're doing to our ecosystems. It keeps us connected. That's a very good thing."
By Angus Loten
Niche sites require tons of legwork to grow. For one thing, entrepreneurs must develop a critical mass of fund raisers and potential donors to give the site value.
One way to do that is to tap into an existing network. Patrick Donohue, co-founder of Hoopfund.com, says the San Francisco-based site has grown to more than 4,000 members in less than a year. The strategy, he says, is to give donors another way to support people whose goods they already buy in stores.
Launched in August 2010, the site lets users make interest-free loans of $25 at a time to help suppliers in developing countries who produce everything from chocolate to vodka. Donors usually know the products from chains like Whole Foods or smaller markets. "Each brand we bring on board brings along their own social network," says Mr. Donohue. "Since these networks tend to have an affinity for one another, we're creating a large community out of all these smaller networks."