Linking Into the BoP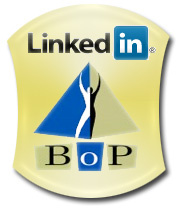 Image rendered from logos of Linked In and the BoP Learning Lab
A few years ago I was swept up in a wave six-degrees-of-separation invitations from the professional networking site Linked In, most of the invitations coming from old b-school classmates at UNC. As a good little networking MBA, I sent out as many invitations as I could too, feeling a certain thrill in seeing the breadth of my professional and social network. However after that initial rush I pretty much forgot all about it. "Who actually uses this thing?" I remember thinking.
Then a week ago I got another invitation from an old colleague of mine at Rockwell International who wanted to reconnect and to share the news that a patent application of ours had finally been accepted (I have two patents in my name, officially making me an "inventor", albeit the kind that doesn't make any money for his inventions). This old colleague wrote, "I always wondered what happened to you after you went back to school, sounds like you're doing some interesting things!"
Those words sent me back into the Linked In universe, searching for other old colleagues that I had missed. And after the excitement of reaching out to old acquaintances had passed, I decided to go poking around my Linked In network. It didn't take long before I started looking for other people who also worked in the Base of the Pyramid. About 65 connections came up, interestingly enough most of them at 2 least degrees away or more: meaning I have few direct connections working in my own field.
However, I was thrilled to find so many interesting people working in the BoP. Five year ago when I started working on BoP projects with Stu Hart and crew it was hard to find anyone that knew anything about it, but today there are numerous consulting organizations, start-ups, corporations and universities employing people to focus on the BoP. I even found a life coach! Many of these positions have been created in the last year or so, and it's nice to see so many people branching out on there own.
Beyond the link I have listed some of the interesting people and organizations I found on my BoP traipse through Linked In. If you're already a Linked In member, try clicking on the "badge" in the top right of this article and seeing which "Base of the Pyramid" folk are in your own network. To make future searches for BoP compatriots on Linked In easier, I've also asked Linked In to create a BoP Group for professionals working in the BoP. Stay tuned for the launch of that group (you can always join the BoP Working Group on Yahoo in the meanwhile).
Patrick
Cosmos Ignite Innovation
http://www.cosmosignite.com/
Connection: Matthew Scott
We seek to bring to bear disruptive technology through innovative products; delivered through a sustainable model in partnership with leaders from the Development, Government & Commercial sectors; to help support education, livelihoods & "ignite" social change.
Our first product is a Light Emitting Diode based Solar Light, incorporating revolutionary new LED technology, rated not to fuse for 100,000 hours (up to 30 years on usage of 8 hrs daily). The 'MightyLight' is a one-of-a-kind Long-life, Low-cost, No-maintenance, Environmentally-friendly light, which is also Multi-purpose (use as a ceiling light, wall light & mobile light), Water-resist & Shock-resist. It also yields breakthrough Energy-savings compared to any other 'bulb' for lighting. It is our first step…
Familias Transnacionales - Transnational Families
http://familiastransnacionales.blogspot.com/
Connection: Pablo Sánchez Kohn
The driving force behind this phenomenon remains a fundamentally human connection: a commitment to family values lies at the core of these flows. As a result, new networks of social and economic connections are being formed. These are transnational families, living and contributing to two countries, two economies, and two cultures at the same time.
From a 'cultural innovation' marketing approach (iii), one of the most favorable scenarios for new product & services development is where different or opposite worldviews meet each other. This is the case of bottom of the pyramid transnational families, who face every day special domestic challenges (e.g. communicating, money transferring, saving, shopping, etc.) that requires a creative effort not just from themselves and their social networks, but also but also from all 3 sectors: public, private and third sector.
From a 'buzz marketing' approach, the transnational families are also social hubs. They are a big natural cross-cultural conversation network, responsible not only for remittances but also of branded products and services, new ideas and cultural trends.
Jump Associates (which led to) Design About
http://jumpassociates.com/ - http://www.idsa.org/design_about//index.htm
Connection: Abigail Ripstra
Design About the Other 6 billion people
Co-sponsored by Hewlett Packard, produced by the Industrial Designers Society of America (IDSA) and facilitated by members of Jump Associates and the Institute of Design, this program focused on developing a collaborative and open-minded environment from which would grow new initiatives and ideas about how to design for the other six billion people.
The IT industry typically designs for the world's 600 million people that have access to connected computing. What about the other six billion people? How can design, technology and innovation enhance their lives? But this question doesn't apply only to computers and consumer electronics. Designers possess a great degree of untapped ability to broadly empower societies through tangible, everyday tools.
Business Solutions for the Global Poor (an HBS book – find on Amazon.com
)
http://hbswk.hbs.edu/item/5529.html
Connection: Brooke Barton
Based on research presented at The Harvard Business School's first-ever conference on business approaches to poverty alleviation, Business Solutions for the Global Poor brings together perspectives from leading academics and corporate, non-profit and public sector managers. The contributors draw on practical and dynamic how-to insights from leading BOP ventures from more than twenty countries world-wide. This important volume reflects poverty's multi-faceted nature and a broad range of actors—multinational and local businesses, entrepreneurs, civil society organizations and governments—that play a role in its alleviation.
IBM and the SME Toolkit
http://www.smetoolkit.org/
Connection: My Luu
The SME Toolkit is a free on-line program which provides information and communication technologies to help small businesses in emerging markets learn and implement sustainable business management practices. IBM will dedicate $1 million to build the Toolkit platform in order to improve usability and performance, provide enhanced functionality and create a resource hub, learning location, and meeting place for small and medium businesses.
"We see the SME Toolkit as a way to accelerate economic development and job growth in geographies and communities not yet engaged in the market economy as well as to help spur development of women- and minority owned- businesses in the U.S.," said Stanley S. Litow, President of the IBM International Foundation and Vice President, IBM Corporate Community Relations. "We are excited to bring our technical resources to this project that has the potential to reach so many."
[My and I have actually met (in person even) through the BoP Learning Lab]
Origo Global Business Advisors
http://www.origoinc.com
Connection: Molly Hoyt
At the heart of our interest lies a simple idea; what if you could show big multinational companies that doing business in ways that do well and do good actually made economic sense? This concept has had particular resonance and acceptance in emerging markets (more particularly, the lower income segments of those markets – sometimes known as the "base of the economic pyramid" or "BOP") where the unusual nature of market opportunities and a comparative lack of standard operating practices have demanded that companies open up to whole new market approaches and partnerships.
FGV's course on Low Income Consumers (in the BoP)
http://pec.fgvsp.br/cursos/gestao_de_varejo/varejo_para_seguimentos_de_baixa_renda.asp (Portuguese)
Connection: Robson Strafacci
[Robson is a sales manager at Nestle Brazil enrolled in the 12 month Low Income Consumers course at FGV in São Paulo]
Course target: Professionals of retail companies, financial institutions and manufacturers who work with products and services directed to low income population segments.
Objective: To deepen knowledge of the characteristics of the low income consumer and to discuss the methods and techniques used for the creation of marketing strategies directed to the low income retail market.
Prospectus:
Strategies of Marketing and the Ingredients of Success in the low income segment
Marketing research for the Low income segment
Market potential of low income markets
Characteristics of low income consumers
Strategies of Localization and Expansion in the Retail market
Distribution: Business Models in the Low income segment
Retail formats
Product and Pricing Strategy
Merchandising Appearance and Store Design
Financial Services and Credit
Communication Strategy
Service
Social responsibility
Global vision
The school also offered a one day seminar on the topic.
Microsoft Market Expansion Group
http://www.origoinc.com
Connection: Latif Nathani [MEG India]
[From a Microsoft press release about MEG]
Will Poole [Corporate VP] is moving to a newly created position focused on reaching and empowering our next billion customers. His group will be expanding the opportunities in emerging markets for platforms and services, growing PC use in under-served segments of developed markets, and driving sales of more laptops, tablets, and new form-factors to PC users. Establishing a Market Expansion organization with dedicated marketing and R&D resources focuses accountability on these growth opportunities for our company.
The Market Expansion group has responsibility for emerging segment offerings such as Windows Starter Edition, pre-paid & subscription computing, and shared-access projects, as well as responsibility for coordinating across all R&D organizations on innovative solutions and business models that target emerging markets. Their charter includes working closely with Windows Client Marketing and the SMSG emerging markets marketing and field organization to drive growth and continuing to expand the Windows Genuine Advantage (WGA) initiative to drive reduction in unlicensed PCs. The group will also focus on electronic software and license distribution as a key growth opportunity for Microsoft and the industry. Finally, they will continue driving hardware innovation for Windows, especially focused on "tailored PCs" including innovative form-factors and the platform-level innovation needed to meet the explosive growth of mobile PC users.
Research Center for the Media & Entertainment Industry
http://www.iae.edu.ar/ (Spanish)
Connection: Luz Silvestri
The Research Center for the Media & Entertainment Industry in Latin America is an initiative backed by IAE Business School in Argentina and 3 multinational companies: Disney, Nokia and Telefonica. The Center addresses strategic issues the industry faces in the region. Current research focuses on the adoption of new technologies and on the effort to make entertainment content and platforms available to bottom of the pyramid consumers.
In Return Capital
http://www.inreturncapital.com/
Connection: Bart Meijs
InReturn is an investment and advisory firm active in emerging markets. InReturn is currently in the market with its new East Africa Fund that invests in viable businesses, both SMEs and MFIs, in Kenya, Uganda and Tanzania.
Objectives:
Be a leading and preferred manager of commercial funds for Small and Medium Enterprises (SMEs) and Micro Finance Institutions (MFIs) in emerging markets.
Be a leading and preferred capital provider to SMEs and MFIs.
Provide supporting strategic and financial consultancy services for SMEs and MFIs, 3rd party funds and companies investing in emerging markets.
Demonstrate the financial and social returns of investments in SMEs and MFIs.
Life Worth and Agents For Change
http://www.lifeworth.com/ & http://www.agents-for-change.com/
Connection: Sofia Bustamante
Lifecoach for people who work in sustainability, corporate social responsibility, and other field that are concerned with creating a more sustainable planet.
Sofia: Interested in exploring ways to take coaching to the 'bottom of the pyramid': innovating with different models that would give access to more poorer sectors of society. Am running pilots in Germany. In the process of exploring this with Lifeworth for countries that are in the South. (www.lifeworth.com) Would like to find the appropriate business model and to set up a venture to acheive this goal. Looking for partners for this.