Re-imagining BRINQ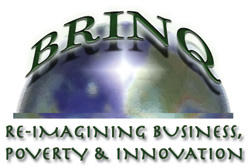 Well, after yet another long, long absence finally an update. Old friends of BRINQ may have already noticed that there have been a few changes around here. BRINQ.com is now sporting an updated look (for the technically minded, I dumped html tables in favor of stylesheets… and forever hereafter say phooey to Microsoft and IE 6). There's an updated front page, a new Photo Gallery, content tags for articles on the BRINQ Bloq, as well as updated content on the information pages: the About BRINQ and What is the BoP? pages in particular.
The About BRINQ page describes what may have been obvious for some time now, BRINQ's change in focus. Although I started this site around my attempts to create business models to promote toy innovation in the BoP, I haven't been pursuing that effort for well over a year now. And although I originally intended BRINQ to become a company, most of the BoP consulting work I do is through Enterprise for a Sustainable World. So BRINQ.com has instead become more of a site to talk about my own work (and the work of my friends) in the BoP.
As now described in the About BRINQ page:
BRINQ focuses on the role of business in the so-called Base of the Pyramid - the world's four billion poor - developing and writing about on-the ground methodologies and knowledge needed to re-imagine this intersection of business, poverty and innovation. BRINQ has three main focus areas:

Partnering - creating and enacting partnerships between poor communities and business
Play - the role of education and play (and toys!) in entrepreneurship and innovation
Innovation - Re-imagining technology (particulary IT) for, with, and by people in the BoP
Most of my recent efforts have been on the first bullet, Partnering, but I'm exploring ways to focus more on the other two. Play, because I still believe it's critical and that's where this all started, and Innovation and IT because that's where I personally started. The stories here on BRINQ focus on experiences and lessons from on-the-ground activities in the BoP
Be on the look out tomorrow for a new section here on BRINQ, BoP Book Discussions, as well as new stories about experiences here in Rio, in the Amazon and in India, and more lessons and strategies for working with MNCs and poor communities.
abraços,
Patrick Donohue
p.s. Yes, the BRINQ blog is now called the BRINQ Blog… the BRINQ Workshop didn't make sense after the move away from toy innovation (and it's questionable if anyone picked up the toy workshop reference even back then). The web address will stay the same though, http://BRINQ.com/workshop/