Finding the Hard Answers - Catalytic Communities Launches Upgraded Site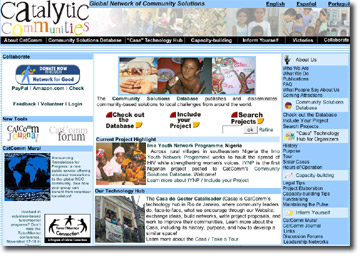 Catalytic Communities (CatComm), our community partner in Rio de Janeiro, Brazil, announced the launch of its new community empowering site www.CatComm.org. CatComm is a huge inspiration for us here at BRINQ, their insights in cultivating and capturing local innovations have been critical to us in our early years and their active work with communities generating solutions has taught us that stronger relationships lead to more viable innovations. In a world of people content with "asking the hard questions", Catalytic Communities is a refreshing example of an organization actually looking for the hard answers.
See the full Catalytic Communities Press Release

Frustrated with the poverty-stricken conditions in which the children of her community, Acarí, in the North Zone of Rio de Janeiro lived, Ivanilde Araújo Pinto began sharing her knowledge with them beneath a tree in the community. A piece of wood served as a blackboard and a chunk of charcoal as chalk. This was 20 years ago. Today the Little School of Love operates out of a community church and is proud of its notable accomplishment: not one of its kids, after 20 years of service by Ms. Pinto (50 children per year have been served), has returned to the streets.

Ms. Pinto's example is not uncommon. Thousands of other community-driven efforts are succeeding in addressing local challenges in Rio de Janeiro and across the world. "These amazing people are out there and no one knows about them. As a result, they get very little support and have a hard time maintaining their efforts," explains Theresa Williamson, Executive Director of Catalytic Communities, "And the work of people like Ms. Pinto, if publicized, can inspire innumerable others to develop projects to better their own communities."

For this reason, since 2000, Williamson has been developing Catalytic Communities (CatComm), a not-for-profit to bring visibility to initiatives like Ms. Pinto's and many others, around the world. Today CatComm is announcing the launch of its upgraded Website, www.catcomm.org, where visitors can consult, include, or search projects like the Little School of Love in its Community Solutions Database (CSD), which now features over 100 projects from 8 countries on 5 continents.
Catalytic Communities has also issued a fund raising challenge to its network of partners, volunteers and supporters.
"CatComm does all this with very little. Supporters have often told us it is one of the most efficient social investments around," CatComm Founder and Executive Director Theresa Williamson proudly announces. "In fact," she challenges, "if everyone who reads this line visits our Website and donates $10, then asks a friend to do the same, our 2006 budget would be cared for. That's all it will take to empower and inspire hundreds of community solutions across the world in 2006."
We wish Catalytic Communities the best of luck! If you're interested in supporting them you can click on the buttom to the right.
For more coverage of Catalytic Communities see: