Innovating a Business Icon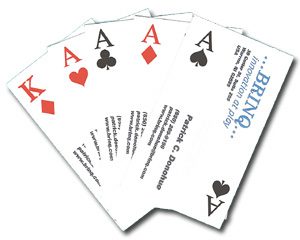 In less than a week we hit the ground in Kenya, to begin the pilot test for the Base of the Pyramid (BoP) Protocol, a multinational, NGO, and university sponsored effort to find innovation and business opportunities among the world's poor. Sure, we'll spend time at corporate offices, with NGOs and government officials, but most of the time we'll be visiting and living with people who don't have easy access to running water or electricity, probably not phones or computers either. So, being an MBA, I fixated right away on the most important question.
Should we bring business cards?
"For NGOs and companies sure," answered Bryn, one of our cultural advisors, "but to give them to people who don't have access to communications would be pretty silly."
Actually, business cards can be pretty silly even for someone like me, a guy who has plenty of access to communications. The business cards I receive tend to sit in my wallet or bag until a lucky few are transferred to my phone or address book. Most of the rest just get lost. I imagine there are hundreds tucked in little hideaways throughout my office and house, each dreaming of a day when some Indiana Jones of the stationary world will find them and comment on the novelty of their logo and daring use of a Verdana font. And let's not even get started on my own business cards, I've been looking for a way to play solitaire with those poor things for years.
So… sounds like we should say no to business cards for Kenya, right?
But let's wait a minute here. Opportunities to ask new questions should never be overlooked, and this question, as silly as it may sound, could lead to some real innovation. Think about it.
What uses could we find in the Base of the Pyramid to help us innovate the business card, that 3.5" x 2" icon of modern business? What do you put on a business card when people can't easily call you, much less email you? What kind of information could make a card useful? Or, better yet, what could be more useful than a card?
Here's where we reach the interactive part of this article. What innovative uses have you seen for business cards? What novel designs kept a card in your wallet or pocket for far longer than you would have otherwise? What wacky or radical ideas do you have up your sleeve. Please share a comment below.
To get you started, here are a few ideas the Kenya team came up with: special thanks to Justin De Koszmovszky and Duncan Duke for many of these. And for some idea generation techniques, check out the BRINQ coverage of Why Not? a Guide for Ingenuity.
Business Card Ideas:
Directions - by foot, by bus, by bicycle, whatever way the people you meet with get around. How and by what people can get to you.
Almanac info – phases of the moon, tides, average rainfall, temperatures, information åthat may be useful to your target
Tools – mixture tables, recipes, rulers, table of elements, phases of the moon, rules of thumb, even paper that test soils Ph levels, anything that your target could use
Referrals & six degrees of separation - your business card could become a customer ID card, with some careful planning you could give out a group of business cards to someone to pass on to others, with ID numbers that help track who got their business card from who.
Tickets or coupons - fit in a punch out section on the card and people with your business card can use them to take part in discounted or free services, give them another reason to come talk to you.
Bus fare – work out a deal with some local transportation, people with your card can get rides to come see you. It doesn't have to be buses either, e.g. in Saigon work out a deal with local cyclo drivers
Postage – stick the card on an envelope and prepaid postage can be bring the contents to you
Games – our favorite of course, little games on the back for children, or turn your business cards into collectibles , via artwork, special names or phrases
Personal Ads – personal ads are short, why not throw one on a business card? Put whatever job hunting or match making info that can help you strut your stuff.
Your ideas? Please share them below!
Additional Links and Resources: