The Power of Play - Relief for Children of the Tsunami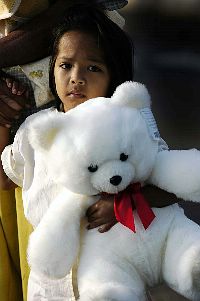 How do you help children cope when their whole world has been swept away?
A number of tsunami relief organizations and corporations are showing that one answer is helping children do what they do best . . . play.
The Christian Children's Fund reports on CCF's role in the tsunami relief and helping children heal through play:
Amidst the death and destruction, CCF's child centered spaces are providing an oasis of hope for children left homeless or orphaned by the tsunami. The child-friendly places provide organized activities to thousands of children living in camps who have lost their homes in Indonesia, Sri Lanka and India.

Toni Radler, CCF's Communications Director, visited the child-friendly places while assisting in the tsunami-affected areas. "They are making a huge difference for the children. Before these spaces were created, children were walking around listless or sleeping part of the day. Now they are playing games and singing, and even receiving informal education, such as math instruction. Several of our parent volunteers are actually kindergarten teachers," she said.
The Baltimore Sun article "A Haven for child's play" reports of one play center in Banda Aceh, Indonesia, set up by the American relief organization Save the Children:
Toddlers stacked building blocks into towers. Five- and 6-year-olds played board games, paged through storybooks and chased one another in circles. Teenage girls in headscarves and skirts sat cross-legged side by side, whispering in each other's ears and giggling.

These might be scenes from children playing almost anywhere in the world. But here, where the violent shaking of the earth and a giant wave made it seem that the world was about to come to an end, the sights and sounds of children's play and laughter this week were nothing short of remarkable, as refreshing and rare for residents as a cool breeze in this steamy city at the northern tip of Sumatra island.
Meanwhile, multi-national companies like Hasbro, the world's #2 toy company and home to Mr. Potato Head, G.I. Joe and Monopoly, are donating to the relief:
Hasbro, Inc. (NYSE: HAS) announced today it is providing a $400,000 contribution to assist with the short and long-term needs of children affected by the tsunami disaster in southern Asia. Hasbro's contribution includes financial gifts to World Vision and UNICEF to support various programs benefiting children and their families, as well as a large toy donation to children in some of the hardest hit regions.
Finally, U.S. Navy sailors quickly donated some of their most prized possessions to help children heal.
Sailors came from all over USS Abraham Lincoln (CVN 72) and lined up in the ship's hangar bay in January to donate some of their most prized possessions - stufffed animals and toys - to victims of the tsunami disaster in Southeast Asia.
Additional Stories and Links:
Children of the Tsunami Play Again - by World Vision International

World Vision International Tsunami Response

100,000 play packs for children of tsunami-hit Indonesia - from Channel NewsAsia

"Rain Dance" by Patrick Donohue - a short story on the importance of joy and play