BoP Conference - Business with Four Billion
Ted London just sent me the latest conference announcement for the UMich/Cornell BoP conference in September. You can see more below, as well as a link to the latest Conference Announcement (PDF).
Please pass the announcement on to people who may be interested in attending. Space is limited.
Patrick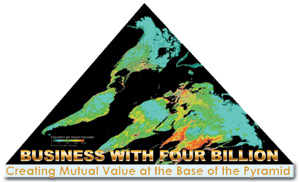 BUSINESS WITH FOUR BILLION

Creating Mutual Value at the Base of the Pyramid (BoP)
September 9-11, 2007. Ann Arbor, Michigan, USA
A BoP Conference Bringing Together a Community of Leading Thinkers:

Business executives l Policy Makers l Academics l non-Profit leaders
This conference will address:
Developing a deeper understanding of the BoP landscape
Comparing a BoP approach to other development strategies
Developing the capabilities required to achieve both business growth and poverty alleviation
Keynote Speakers:
CK Prahalad, University of Michigan
Stuart Hart, Cornell University
Additional SPEAKERS:
Luis Alberto Moreno, President, Inter-American Development Bank
Helene Gayle, President, CARE USA
Al Hammond, Vice President of Innovations, World Resources Institute
Scott Johnson, Vice President of Global Environment and Safety Actions, SC Johnson
and more…
Links: