I'm a CatComm Champion - Join my pledge!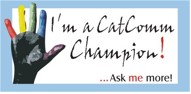 Here's an opportunity to help me support an incredible organization that we're working with here in Rio, one that is helping local communities throughout the world solve their own problems. I have agreed to become a CatComm Champion, pledging $500 to support Catalytic Communities' unique work with community leaders around the world, but only if I can inspire at least 50 of my friends and colleagues to each contribute $50 or more to match my pledge (for a total of at least $3000).
Catalytic Communities (CatComm) creates networks of community champions who are working to better their own communities - often marginalized squatter areas - throughout the world. A Washington, DC and Rio de Janeiro based non-profit, CatComm is building a world where community-generated solutions are just a mouse-click away, where anyone, anywhere, confronting a local problem, can find the inspiration and tools they need to implement the solution, learning from their peers. In November I will attend the Tech Museum Awards with CatComm founder Theresa Williamson where CatComm is being honored as a Tech Museum Laureate for its development of technology that benefits humanity (see more further below).
By joining me in this pledge, you not only magnify the financial support of hundreds of other pledges, you also become a part of this growing network of people who are helping the world to help itself. Only when 50 friends and colleagues sign up to donate at least $50 will I make my donation of $500. I am counting on colleagues like you to join me to meet this pledge!
To sign my pledge please go to http://catcomm.pledgebank.com/stanfordcarolina, fill in your name and email address and click "sign pledge". When the pledge completes in December, CatComm will contact you about how you can contribute your $50.
Thank you,
Patrick
Did you know?

CatComm is currently supporting over 130 community led projects in 9 countries.
Dozens of community programs would not have survived were it not for CatComm's outreach on their behalf.
CatComm runs a unique community center for over 950 squatter and community leaders across Rio de Janeiro.
Communities from Khartoum to Rio de Janeiro have attracted press attention for their projects through our site.
Our online database exists in English, Spanish and Portuguese.

To learn more about Catalytic Communities visit:
http://www.catcomm.org

Past BRINQ articles about CatComm:


October, 2006
Catalytic Communities Awarded Prestigious Tech Museum Award

"The Tech Museum Awards are an incredibly important way to call attention to some of the most meaningful innovations in science and technology in the world, and to the often unsung heroes behind them," said Peter Friess, President of The Tech [Musuem]. "The Laureates who we honor serve as great role models to future generations of inventors and engineers, and their work reminds us that innovation can be applied in profound ways to benefit humanity and the world."

"Catalytic Communities represents the 'best of the best' technologists whose innovations benefit humanity, and we are thrilled to welcome them into our community of Tech Laureates," said Amanda Reilly from The Tech Museum of Innovation. "We aim to raise public awareness on how technology can significantly alleviate many of the critical issues facing our planet and champion those innovators who are leveraging technology to provide resolution to both local and global problems."