Side Effects - A Day in the Community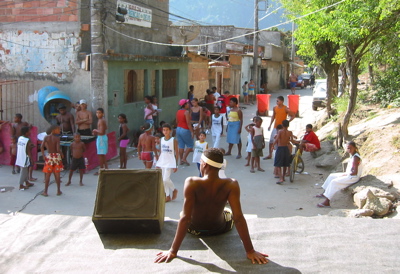 "I'd love to hear your impressions," Theresa said to me as we boarded the bus outside of Rocinha, "about what you think of the communities here vs. where you lived in Kenya." Here was Rio de Janiero, Brazil and in Kenya was Kibera, a million-person shantytown in Nairobi, where I had just spent the previous three months living and working. Theresa and I were catching a bus to the outskirts of Rio for a visit with local community leaders and to spend a "Day in the Community", a regular event that brings together children and neighbors from six of Rio's favelas, Brazil's illegal communities. Theresa and I found a seat as the bus lurched forward and I sat there wondering about her request. What preconceptions had living in an African slum given me about a South American one?
The bus picked up speed and Rocinha faded into the distance. I leaned back into the seat and rubbed the palms of my hands over my face; my head was in a whirl, not just from the warm Brazilian hospitality and strong caipirinhas of my night out before but also from the eclectic route we were taking through Rio. We had started our trip in the beautiful and trendy neighborhood of Jardim Botânico, with lush green mountains and inland lagoon, switched buses in front of Rocinha, the Americas' largest squatter city with its two hundred thousand residents and overflowing hillside houses, and were on our way to Asa Branca, a twenty year old favela I knew nothing about, yet somehow had inadvertently impacted months before. Theresa looked at me for a moment and gave my shoulder a squeeze, sensing if not understanding my confusion. I let my hands fall back to my lap and I smiled back at her, relaxing a little before turning my gaze back to the passing communities.
Theresa Williamson is the founder and executive director of Catalytic Communities (CatComm), a Washington D.C. and Rio based organization that creates spaces to empower community leaders. These spaces, both physical and virtual, are designed to share solutions and foster new relationships, in the process growing a local/global network that catalyzes community development and engagement. I never could have predicted that a chance encounter with Theresa nine months before in San Francisco would draw me into this world-changing network. However, CatComm's mission of creating connections is mirrored in Theresa's personality and so it was no real surprise that here I was, stepping off the bus onto a dusty street corner in a Brazilian favela with Asa Branca's community leader, Carlos "Bezerra" Costa, reaching out his arms to greet me like an old friend. The strangest part of it all was that despite this being my first visit to Asa Branca, I knew that I had already been there. I had Theresa and CatComm to thank for that.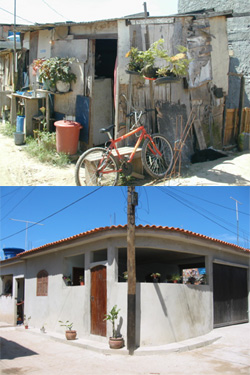 Bezerra quickly started us on a walking tour of the neighborhood and I began making comparisons between Asa Branca and Kibera. My first impression was that most Kiberans would be thrilled to live in a place like Asa Branca. Sure, like Kibera there were some scrap metal shacks for homes and a river with overflowing garbage behind the community, however mixed in amongst it all were charming, locally built houses, one and two story structures of cement or wood with red clay tiled roofs and green gardens in front. Even the shacks had potted plants hanging on their outer walls, the level of care bearing no relation to the quality of the building material. And, trash-laden river aside, the community was clean and the streets were smooth, there were no open sewage trenches and we'd even see the occasional parked car and speed bumps. This is what Kibera could be like if allowed to develop, I thought.
As we walked down dusty white streets past houses, stores and bars, I noticed that Bezerra would introduce Theresa to the people on the street as "a member of my family", each introduction provoking Theresa to flash a warm smile. Theresa explained to me that the engagement with Bezerra and Asa Branca is one of CatComm's longest running relationships; Theresa has personally been documenting the community's development for years and Bezerra is a regular visitor to the Casa do Gestor Catalisador, CatComm's community hub in Rio. Asa Branca is a great example of how a community can solve its own problems: while the city government ignored it, Asa Branca organized to install its own community sewage system and to raise its streets against flooding. That project and others are documented in detail in CatComm's Community Solutions Database, available in three languages at http://www.CatComm.org/ The database is one of CatComm's most important tools and is the main draw to the organization, but the power of Catalytic Communities is not just captured in the solutions found on its website, nor just in the Casa where community leaders meet. Actually, what CatComm does is only a fraction of what it creates, evident in the fact that I was now sitting down to have lunch with Bezerra and his family.
Allow me to explain.
In February Mabel Miguel, a management professor from UNC's Kenan-Flagler Business School, contacted me to ask if I knew anyone in Rio that would be interesting to meet. Mabel was getting ready to lead her yearly Global Immersion class of MBAs down to Argentina and Brazil. I suggested Mabel get in touch with Theresa, which she did, and Theresa met up with the class the following March at a restaurant in Rio. The next day Theresa helped arrange for the class to visit a local community and to meet with a local community leader, the community of course being Asa Branca and the leader being Bezerra.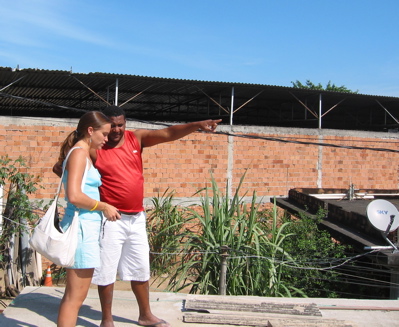 So out into Asa Branca went a group of MBAs to see a side of the world few of their peers ever see. The students were so impressed with what they saw there that they promised to fund raise for Bezerra; and after returning to the U.S. they did just that, eventually sending $1000 to Asa Branca to help fund programs in the favela. The community has used that money to fund four different events and is in the process of funding a fifth. More important though was the picture the group took with Bezerra, a copy of which Mabel later sent back with a signed certificate of appreciation from the University of North Carolina. Bezerra now takes the picture and certificate with him everywhere he goes, but especially when he goes to meet with city officials. "See, " he tells them, "We have future business leaders of America, students from a top business school in the United States, coming to visit us, and you can't even help us pave our roads?" The certificate also explains why when I first met Bezerra at CatComm's Casa he greeted me with a hug. This is what Catalytic Communities plans for without being able to predict, bringing together a North American entrepreneur with a South American slum leader, bringing together diverse world views while going beyond simple networking: Catalytic Communities turns handshakes into hugs.
After a tasty lunch at Bezerra's home, a cozy second story house with tiled floors, running water, comfy sofas and a Sony Playstation, we headed out to the main road to catch a ride with another community leader to Coroado, a nearby community where the month's "Day in the Community" would be held. The drive was a short one and before long we had stopped outside of Coroado's main square, where a stage was setup for the events to come. Though we couldn't really see much of it from where we were, Coroada felt bigger and older to me than Asa Branca; Coroado felt more like a small city, the pace here felt a little faster.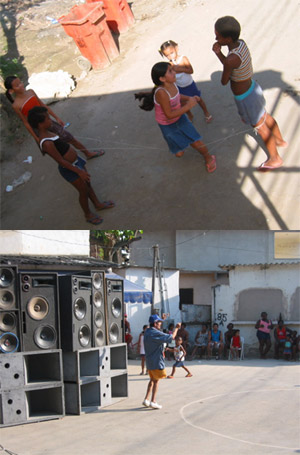 The day's activities hadn't begun yet, so Theresa and I took a seat on the nearby hillside to film and photograph the event. People of all ages and shades of brown were milling about, and old and young alike were hanging out and chatting. There was a set of large speakers pouring out music for dancing, but at the moment only one lone dancer could be seen moving in the square: an old man who seemed perpetually to be working up the courage to ask Theresa to dance. As we sat there watching the community leaders run through the final setup, I couldn't help but notice that children were playing all around us, that adults were greeting every passing neighbor. Just like it was when we worked in Kibera, the sense of community here was so strong I could almost touch it. How rare, I thought, to feel this in communities in the U.S.
Bezerra approached us with a middle-aged woman in tow, another leader from a nearby community. He introduced us to one another and then talked for a while about Catalytic Communities, "You need to visit the Casa," he told the woman, "and you should put your project in the database." More projects in CatComm's database means more solutions for other communities, but joining the database also provides strong benefits to the group offering the solution: visibility for a community's work with potential sponsors, partners and media, but more importantly, joining the database is an excuse to talk with other people. I had read extensively about CatComm's Casa before coming to Rio, but I never had imagined the sound of the place: a constant buzz of community leaders from all over Rio talking with one another and working on the Casa's computers. And everyday there seemed to be new visitors, local or foreign, stopping by to see what was going on. Thinking about the experience made me remember the advice I had been given years before, "Patrick, as an entrepreneur, always look for new reasons to talk to someone, the more unique the excuse the better."
So standing there in Coroado, with the buzz of new conversations picking up around me, I thought about all the excuses that had led me to this particular hillside in Rio. A speech in California five years before, leading to a book I couldn't put down
, in turn leading me to seek a career change and go back to school in North Carolina. Then a series of encounters that led me down to Brazil, back to the U.S., out to Kenya, and then back to Brazil again. As I thought back over the last five years of my life, I realized all the things that I had once believed to be mere side effects were actually defining events in my life, true crossroads. Then I thought about what we had done in Kenya, about the real value the Base of Pyramid Protocol could bring. Was the value in the potential financial returns of the pilot venture we helped launch with SC Johnson in Kibera, or was it the excuse SC Johnson now had to create relationships with community groups that they never had a reason to even be talking with before? What innovations or new opportunities could come up once you actually have a reason to be working with someone you never did before?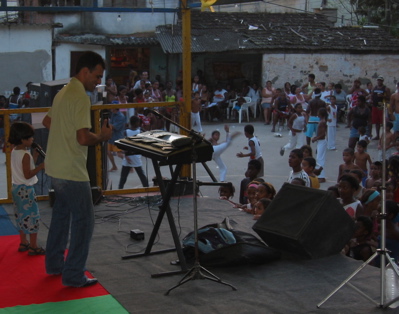 A local musician was finally up on the stage. As he began to play on his keyboard I turned to look at Theresa and saw that several other community members had joined the discussion. Watching them I had a sudden moment of clarity. We often focus on the obvious aspect of networks, that they form connections between distant points, but rarely do we focus on one of their most powerful attributes: that networks are nets, they capture as well as connect. Catalytic Communities' network is more than just the solutions in its database, more than just the community leaders meeting at the Casa. Those elements are all anchors for the network, true, but the net itself reaches beyond, drawing in people like me, Mabel Miguel, the Omidyar Network, Jeremy Rifkin and so many others. Similarly the value of the Base of the Pyramid Protocol is more than just the businesses it creates, but instead is also the system it enables to capture new ideas and opportunities, i.e. real relationships between diverse sets of people. You can never predict those kinds of side effects, but you can plan for them, just as Catalytic Communities does. Chance, after all, favors the prepared mind.
I felt Theresa's hand on my arm and so I looked back at her again. The community leaders were still talking but Theresa had turned aside when she noticed that my attention had wandered. She glanced a question at me, are you ok? I smiled and then nodded in response, everything is fine. So placing her hand on my shoulder Theresa smiled warmly and then drew me back into the conversation.
"You should talk to Patrick," she began…
For the curious:
Would you like to financially support Catalytic Communities? You can donate online via Network for Good.