BRINQ on the road . . .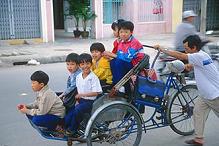 The past couple of weeks have been intense travel weeks, with meetings at the Base of the Pyramid Learning Lab, hosted by Cornell University, and the 2005 Advisory Board meeting for the Center for Sustainable Enterprise at the University of North Carolina. Included below are some meeting highlights.
Base of the Pyramid Learning Lab

This latest session of the BOP Lab, held in Ithaca February 17-18, had three main agenda items, KX Industries innovative new "World Filter", the SC Johnson partnership with ApproTec in Kenya, and the field test for the Base of the Pyramid Protocol. The BOP meeting and its participants were fantastic, and we all finally got to thumb through celebrated business guru (and BOP founder) Stuart Hart's new book "Capitalism at the Crossroads":
""This book takes the contrarian's view that business--more than either government or civil society--is uniquely equipped, at this point in history, to lead us toward a sustainable world in the years ahead," writes Hart. "Properly focused, the profit motive can accelerate (not inhibit) the transformation toward global sustainability, with nonprofits, governments, and multilateral agencies all playing crucial roles as collaborators."
Center for Sustainable Enterprise Advisory Board Meeting

The 2005 Center for Sustainable Enterprise board meeting kicked off with a keynote address by Marc Gunther, senior writer at Fortune magazine and author of "Faith and Fortune: The Quiet Revolution to Reform American Business". We were interviewed by Marc several years ago when he visited UNC to do an article on Professor Stuart Hart and sustainable enterprise. Marc credited those meetings as one of many inspirations for "Faith and Fortune". We're glad to have made an impact.
Another notable session was a panel discussion around "Making the Business Case for Sustainability", led by CSE Director Al Segars, with participants John Lott (DuPont), Pogo Davis (ConocoPhillips), and Tony Singarayar (Johnson & Johnson). Most memorable was Singarayar's use of tsunami pictures to illustrate how difficult it is to recognize a change in context, even when your life is threatened. "We need a better business model lens", Singarayar commented.
Further sessions included a presentation by MBA students Dan Holt and Rebecca Swartz on the shortcomings of current sustainability indices (Calvert, Dow Jones Sustainability Index, etc.). "It's almost impossible to do company by company comparisons," explained Swartz. The duo proposed an alternative system, which will shortly be available on the CSE White Paper page. Finally, Al Segars announced the launch of CSE Consulting. The brain child of CSE Executive Director (and BRINQ advisor) Katie Kross, the program offers fee-based consulting to organizations in need of sustainability business services.