Base of the Pyramid Protocol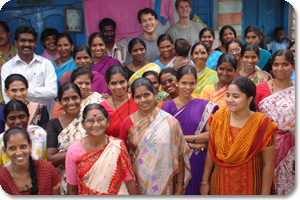 The Base of the Pyramid Protocol is a corporate innovation process for sustainably serving communities in the base of the world's income pyramid (BoP). With the BoP Protocol, companies work to simultaneously develop new markets and lift up low-income communities through the co-creation of new innovations and enterprises in the BoP.
As a multi-year, action-based methodology the BoP Protocol enables companies to build a deeper understanding of the challenges & aspirations of low-income communities, while at the same time launching new businesses that capitalize on those experiences. Community members act as equal partners to the company throughout the process as the two groups strive together to build mutually beneficial enterprises and markets.
By building common ground between companies and communities, the BoP Protocol is a model for enterprise and market co-creation. Via the BoP Protocol, a company can:
Build a deep understanding of BoP communities' needs and aspirations
Develop key local partnerships in BoP communities that form the foundation for a sustained business venture
Incubate and launch businesses that are embedded in the community's aspirations, strengths, and values
Co-create new markets via new value propositions that neither the company or its community partners could have created on their own
---
About the BoP Protocol initiative
The BoP Protocol is a multi-institution collaboration between leading business and academic institutions, involving a number of academics, professionals, and non-profit leaders from a variety of organizations.
Cornell Directors
Development of the BoP Protocol itself is directed out of Cornell University's Center for Sustainable Global Enterprise (CSGE). The BoP Protocol's Co-Directors are listed below.
Erik Simanis - Senior Research Associate
Stuart L. Hart -Samuel C. Johnson Chair in Sustainable Global Enterprise and Professor of Management
Duncan Duke - Senior Research Associate
Gordon A. Enk - Executive in Residence
Field Leaders/Experts
There are several BoP Protocol practitioners that have been involved since the first implementation of the BoP Protocol and who continue to both lead BoP Protocol implementations in the field and contribute to the Protocol's development.
Key Contributors
Michael Gordon - Professor of Business Information Technology, University of Michigan
Ted London - Director of Base of the Pyramid Initiative, William Davidson Institute
Mark Milstein - Director of Center for Sustainable Global Enterprise, Cornell University
For more information, see bop-protocol.org or the BoP Protocol Initiative at the Cornell Center for Sustainable Global Enterprise. You can also read Patrick's BoP Protocol Articles on BRINQ.com
---
BoP Protocol implementations
Since the initial BoP Protocol pilot by SC Johnson in 2005, several other BoP Protocol initiatives have been launched: each in a different geography and with a different set of partners facing new challeges and opportunities. You can read more about the four on-going projects: